Have you ever wondered how hotel reviews can impact a business?
In today's era of technology and easy access to the internet, as well as heightened competition in the market, it's crucial to receive positive hotel reviews and be recognized as a popular accommodation option for tourists.
However, it's equally important that your accommodation is the ideal choice for your guests.
Reviews are crucial for the rating of accommodation facilities. However, it's common for guests to be completely satisfied with their stay, yet fail to leave a review.
Even if they didn't leave a comment, rest assured that your accommodation will be their top choice whenever they're back in your city or area.
There are various ways to ensure guest satisfaction.
Below there is an actionable list and infographic of the 10 Best Tips for Positive Hotel Reviews.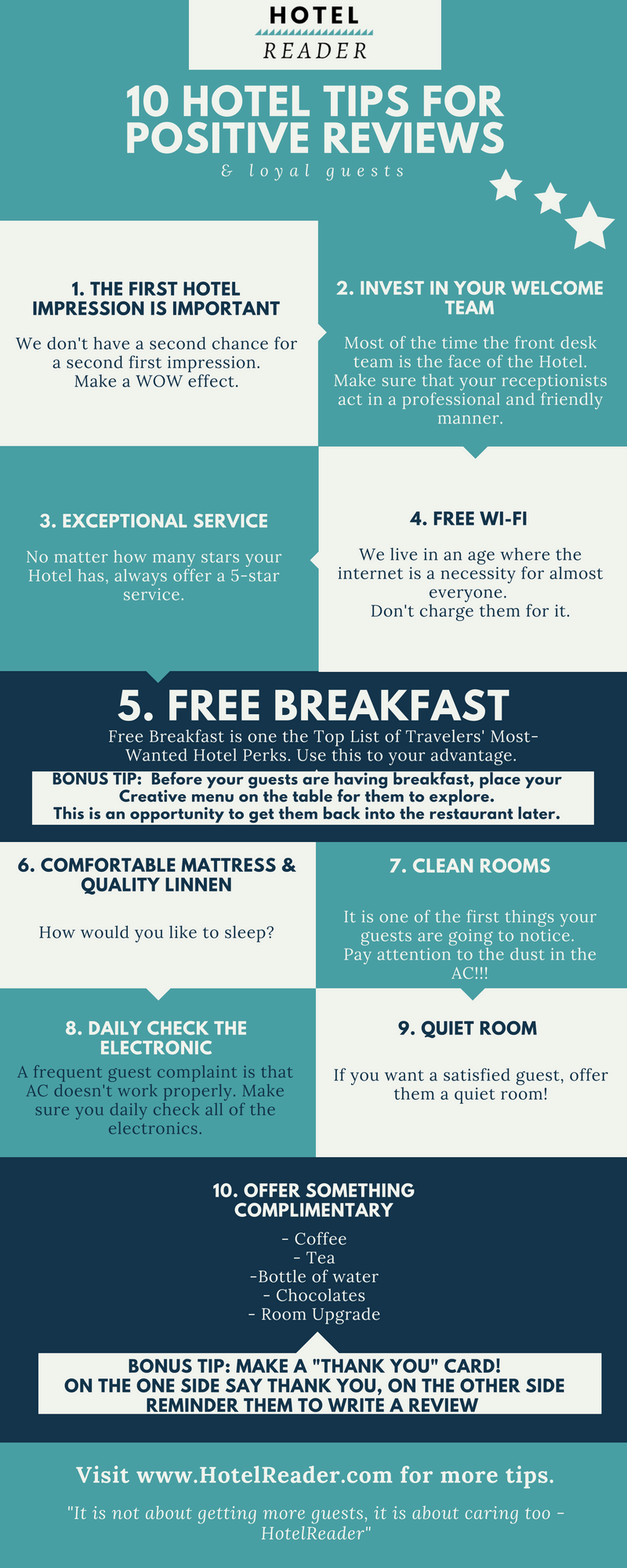 The First impression of the Hotel is the most important
Yes, we don't get a second chance to make a good first impression. So, aim for a WOW effect! When guests enter your hotel for the first time, they should be awestruck, and this feeling should continue throughout their stay.
Small details can make a big difference:
The hotel's appearance
Proper lighting
A prominent reception area
Greenery
A well-marked entrance
A pleasant atmosphere
Be creative and offer something special that sets you apart and makes your hotel memorable. Make your guests feel important and valued.
Invest in your welcome team to get more reviews
Whether it's a concierge, receptionist, or front office manager, they are all the first point of contact with guests. In most hotels, the receptionist is usually the first person to greet guests, which is why they are often referred to as the "face of the hotel."
As important as the first impression of the hotel is, it's even more critical how receptionists welcome and bid farewell to guests.
A friendly smile and kind words can go a long way in making guests feel welcome and valued.
Here are some commonly used phrases that can work wonders when welcoming guests to the hotel:
Welcome! We're delighted to have you here.
Welcome! It's a pleasure to have you at our hotel.
Welcome back! It's great to see you again. (When the guest is a regular or returning for the second time).
What we have found out is that one of the few phrases the guest will remember while staying at your Hotel is "Welcome".
While guests are waiting to receive their room keys, it's recommended for receptionists to have a brief chat with them to increase their confidence and enhance their overall experience. Here are a few examples of conversation starters:
What brings you to the area?
How often do you visit our city?
Have you stayed at our hotel before?
Additionally, it's crucial not to overlook the receptionist's behavior when guests are checking out of the hotel. Saying goodbye with kind words is also essential.
While preparing the guest's invoice, receptionists can engage in small talk to find out about their stay. For instance, they could ask:
Did you enjoy your stay?
How was your stay?
It was a pleasure to have you as a guest at our hotel!
We look forward to having you as our guest again!
Don't forget to leave a review!
Exceptional service for Positive Hotel Reviews
The first rule that I'm following is:
"No matter how many stars your Hotel has, always offer 5-star service. -HotelReader"
You can never go wrong if you follow this simple rule, and you will undoubtedly receive positive feedback from guests.
Train your employees and don't hesitate to invest in their development; it always pays off. Let your employees know that you won't tolerate rudeness and arrogance towards guests. The guest is always right, even when they are not.
As managers, you should not contradict guests or enter into conflicts with them, even if they are wrong or offend your hard work and efforts.
Guest safety is of utmost importance. Ensure that the hotel is safe and that guests won't face problems with violent individuals or theft.
Offer quality food in creative ways. During this time of intense competition, it's challenging to compete for quality, survival, and profit simultaneously.
Use all the available tools on the internet to get new and creative ideas for your hotel. Make changes from time to time, and regular guests will appreciate the positive updates.
Free Wi-Fi
We live in a time when the internet is a necessity for every person. Offering free internet is what every guest expects, but providing fast and secure internet is what they will truly appreciate.
Guests often complain about poor internet connections, which may prevent them from completing important tasks while staying in the hotel. Don't let a weak internet signal be the reason for negative reviews.
Make sure your internet connection is reliable and can accommodate multiple devices. A fast and secure internet connection will enhance the guest experience and earn positive reviews.
Free breakfast
It is imperative for guests to have a free breakfast. Always offer a free breakfast that is included in the price of their stay.
Create a breakfast menu with several different meal options, so guests have more choices. This is especially suitable for hotels with less capacity.
Of course, if you have a large hotel, offering a different breakfast for each guest would not be practical.
But if you run a small hotel, offering a breakfast menu to choose from is a great option. Guests will appreciate it.
Bonus tip: While guests are waiting for breakfast, leave a premium menu on the table so they can be amazed by the food choices that your hotel restaurant offers. This alone increases the chances of them coming back to your restaurant.
Comfortable beds and quality linens
In this section, I will tell you not to save money on these two significant things. We want satisfied guests, and we will get them if they have a quality sleep.
One of the most common complaints from guests is that they had a small and uncomfortable bed in their hotel room. This can result in negative hotel reviews.
For those with a vintage-style accommodation, that does not mean having old and unmanageable beds. Whatever the style of your accommodation, always try to have comfortable mattresses and pillows.
Quality bedding is also crucial for quality sleep and comfort. Always have pure white cotton linens, and avoid using softeners with strong odors on the sheets. Ensure they are flawlessly white and well-ironed. It is desirable that the towels are of high-quality terry, but it's up to you to decide on their color.
Would you like to sleep on a bed from which the springs are coming out or on bedding that is so thin that it could tear at any moment?
Clean rooms for even more positive reviews
Clean and tidy rooms are obligatory in every hotel.
Pay attention to the details and don't overload the room with furniture, making it easier to clean. Have new and simple furniture.
Monitor the cleanliness of the rooms daily and air them out after each guest departure. Unclean rooms, dust, and dirty toilets are things guests quickly notice and can interrupt their stay.
Nobody wants to pay $100 per night and sleep in a dusty room.
Pay attention to the air conditioning system and ensure that there is no dust inside that guests could breathe in.
Check your electronic devices regularly to see if they are working
You need to have at least one electrician employee who will be in charge of all the electronics in the hotel.
Most often, the AC doesn't work properly or is not enough, which can lead to guests feeling either too warm or too cold in their rooms. Keep these things under control to avoid negative reviews for your hotel.
Make sure there is always hot water available, and if you have an electric kettle in the rooms, ensure that it's functional. Also, regularly check the light bulbs, and my advice is to check them every day.
Quiet room
Every traveler in the world wants a quality sleep and a quiet room.
Make sure each room has good soundproofing, and the windows are well closed to avoid noise from the outside, especially if your Hotel is located near restaurants and bars in the city.
Ensure that newly arrived guests who will check-in later do not disturb other guests in the rooms.
For those returning late to their rooms, ask them to keep quiet in the hallway.
Include these guidelines in the Hotel's policy list and place them in a visible location where everyone can read them.
Offer something complimentary
Coffee
Tea
Bottle of water
Chocolates
Room Upgrade
When a guest arrives at your hotel, whether it's their first time or they're a regular guest, offer them something for free. This is something that guests will remember and appreciate, despite any shortcomings they may experience.
The offer should be modest, of course, to avoid incurring significant expenses, but it should be unique and creatively presented.
This alone can result in a very nice positive hotel review.
Create a plan to guide you and work closely with your employees to implement these small but crucial tips. By doing so, every guest who stays at your hotel will leave satisfied.
Bonus Tip: Make a "Thank you card"!
The design is all up to your creativity, but the concept is simple: on the one side you can say thank you for visiting our Hotel, for example, and on the other side reminder them to write a review for their stay!
Thank you for reading HotelReader, we hope that these tips can help you as they helped us get more positive hotel reviews and loyal guests.