Responding to negative hotel reviews is one of the more challenging aspects of the hotel business. Your goal is to please all guests so that they are satisfied during their stay.
It's always a pleasure to read positive feedback about our hotel, staff, and service, but we often come across negative reviews from guests sharing their less-than-pleasant experiences at our hotel or accommodation.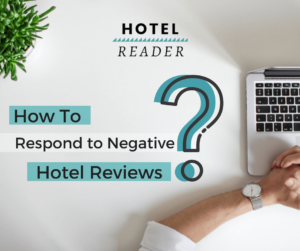 But don't worry!
In the following paragraphs, I will explain step-by-step how to write a good, logical, and concise response to negative reviews.
You will also see some review examples, and you can use my templates to deal with bad reviews.
Those of us who have worked in the hotel industry know how stressful and uncomfortable it can be to receive negative reviews. To avoid negative reviews, we first need to ensure that none of our guests leave dissatisfied.
Visit this article to find out how you can improve your hotel reviews.
If you've received a negative review, don't worry! Here's how to deal with it and respond in the best way possible.
Here's some advice:
Keep your response brief and easy to understand. No one wants to read a long post.

Apologize and show empathy in your response. For example, "We're sorry to hear about your bad experience."

The best way to respond to a bad review is to be honest. Don't lie or provide false information just to save the hotel's or accommodation's image. People can easily detect dishonesty, whether it's written in two sentences or an essay.

Don't make false promises or promises that you can't fulfill.

Remember that your response to the review isn't just for the person you're addressing. These are public reviews and responses, and potential guests are reading them too!
Here are some negative hotel review examples:
Below, you will find some example responses to a bad review. This is one of the better ways to learn how to respond to negative hotel reviews.
After reading the review, make sure to identify what the guest is complaining about and take note of it.
If the guest is complaining about the unkindness of the receptionist, check which receptionist was on duty during the guest's stay at your hotel.
Conduct an interview with the receptionists to find out what the problem was that led the guest to complain about their behavior and work.
If the guest is complaining about poor room hygiene, check which housekeeper cleaned their room.
These are just a few examples, and the problem could be anything. It doesn't necessarily mean that the problem is with the employees.
What's important is to thoroughly investigate what happened during the guest's stay before responding to their review.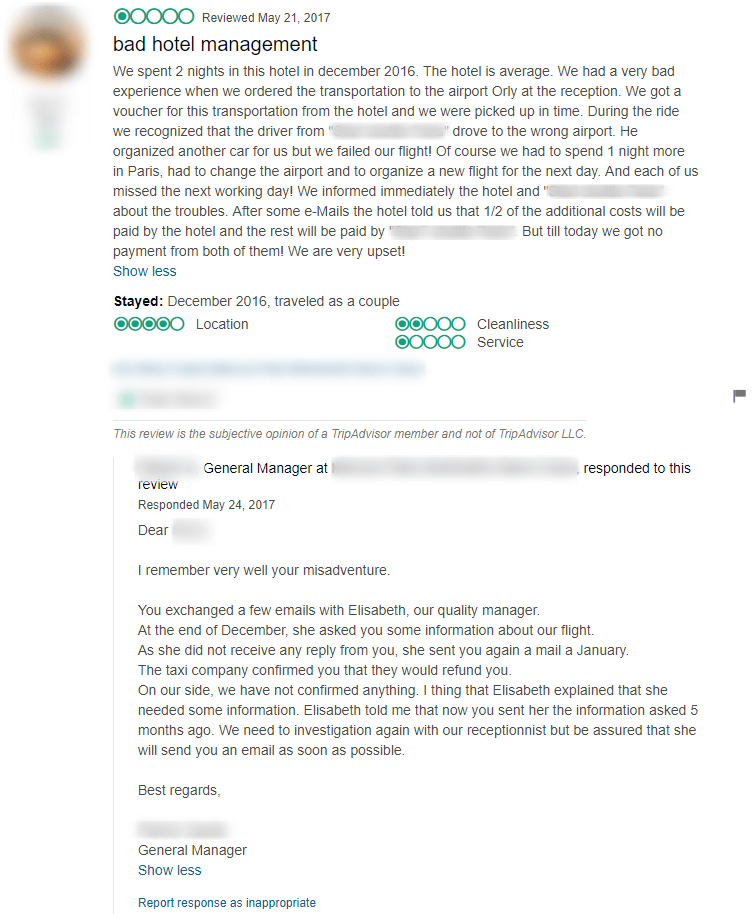 Be polite and kind when you respond
You have surely noticed that when you start to write a response to a review on any OTA (for example: booking.com), they advise you to be calm, polite, and wise in choosing the words to refer to the guest.
Why is that? The goal of every hotelier is to make the guest return to their accommodation, and in the best case become a regular/loyal guest. So the first tip is to be kind and calm when writing a response.
Start the response with the name of the guest
This shows the guest that you have noticed their name and have carefully read their comments. By including their name, you show that you care about them.
Keep in mind that not only the guest who wrote the review will read your response, but also other potential guests.
Example: Dear value (name of the guest)
Thank the guest for taking the time to write the review.
Guests take time to write reviews, so it's important to show gratitude for their effort.
Example: Dear (guest name), thank you for taking the time to write this review… or
Dear (guest name), we appreciate you taking the time to write this review…
Apologize for the situation or a specific case
Not every apology is an acceptance or recognition of a mistake, but here you should apologize for the reason that may have caused the guest's negative experience.
Even if the guest is not right, it's still important to apologize. An apology can help to soften the tone of the response.
Example: Dear (guest name), thank you for taking the time to write this review. I apologize for the negative experience you had during your stay.
Dear (guest name), we appreciate you taking the time to write this review. We are very sorry to hear that your stay did not meet your expectations.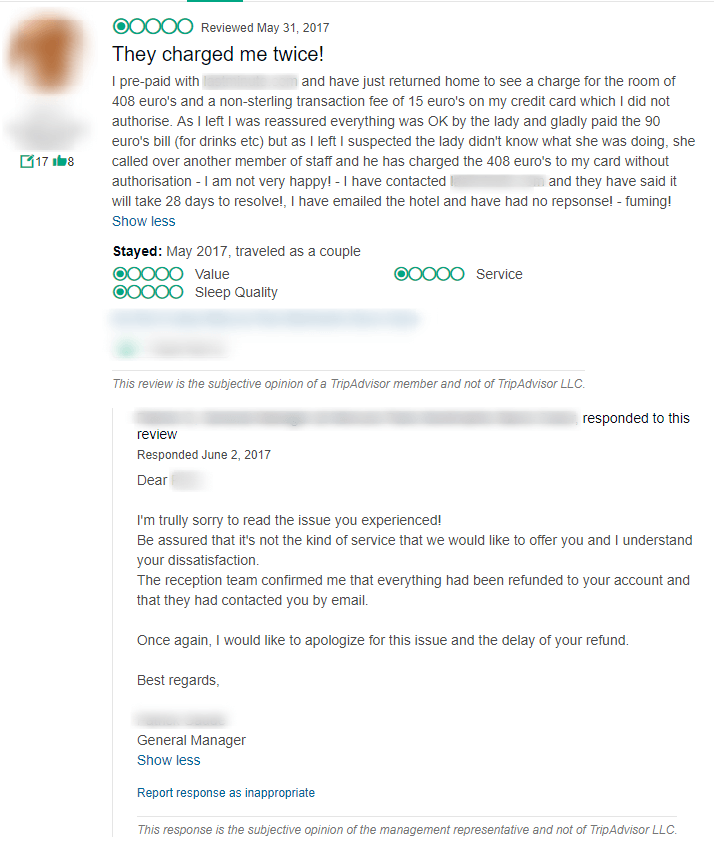 Explain the situation from your perspective
The customer is always right, that's a clear rule. But in most situations, they're not. Of course, you cannot say aloud or write in your response that the guest is wrong. You should always keep an eye on why the guest is unhappy and what they complained about.
If the guest wrote in their review that they were not satisfied with the complete service they received, then there's no need to explain that your staff is the best or that the food is the best in the region. Don't make things worse by trying to prove that you're the best.
However, if the review relates to a specific issue, such as the room being too hot or too cold, and this is a common problem mentioned in other reviews, you or your employee should investigate why this is such a common problem.
When responding, be specific about the problem and explain your efforts to resolve it. If you were already aware of the problem, mention that you are taking steps to address it. For instance, if a guest complains about housekeeping, mention that you're aware of the issue and that you're working to eliminate the problem. If a guest complains about a receptionist, mention that appropriate disciplinary measures will be taken.
In some cases, you may need to say that you personally will make sure to fix the problem that the guest is complaining about.
Example: Dear [guest name], thank you for taking the time to write this review. I apologize for the bad experience you had during your stay. I am very disappointed to hear that our room service and housekeeping staff did not meet your expectations. Your remarks have been noted, and I personally will make every effort to remove all shortcomings as soon as possible. We will do everything in our power to exceed your expectations next time.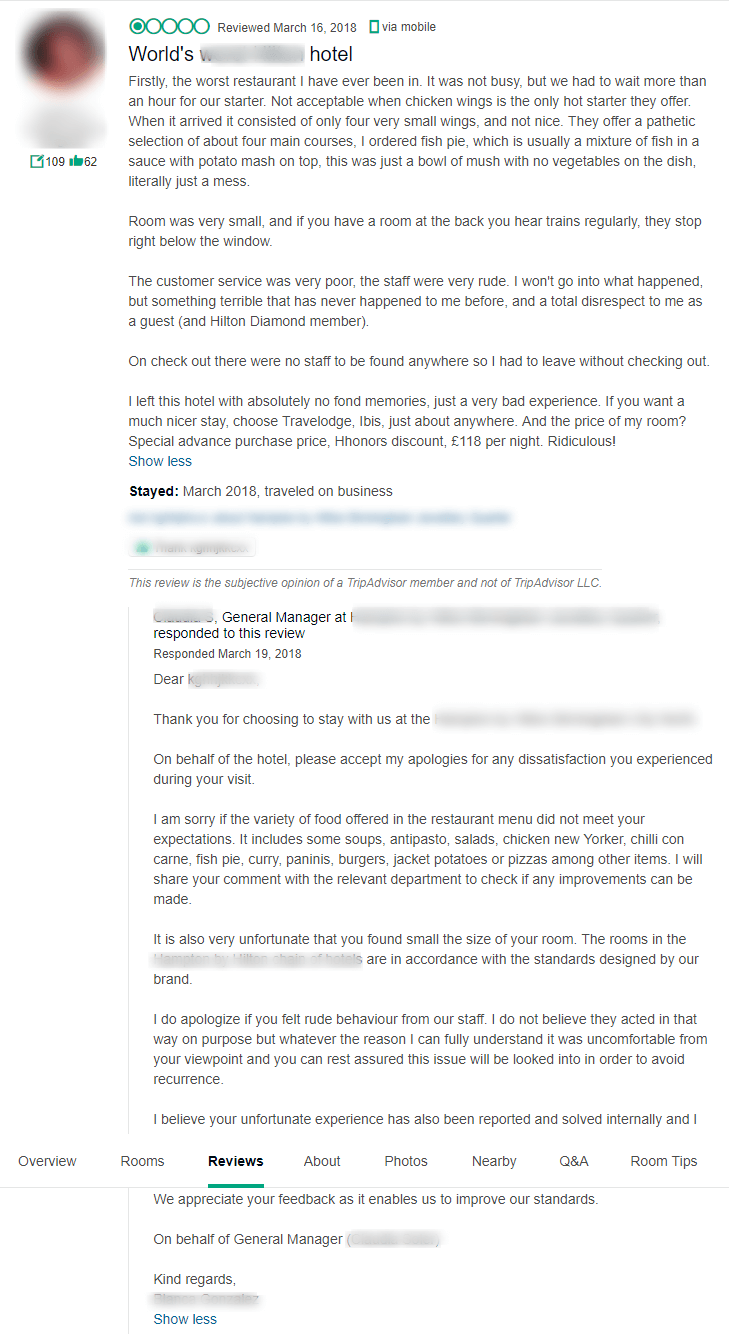 Ask your complaining guest to give you another chance
This is the part where you should not make false promises. If you really want to welcome back this guest and have another chance, be honest.
It's not ideal to give presents to your guests just to get them to come back to your hotel, but upgrading their room for the next stay won't hurt anyone. You can also tell the guest in a private message that they will have a complimentary stay at your property next time.
I suggest sending this message privately because if you give free accommodation to every guest who writes a negative review, it's not a good idea. This leads us to the next piece of advice.
Be open to contact with the guest.
Always offer to be contacted before the end of your review response. Provide your private email or phone number to show the guest that you are interested in solving their problem.
In the end, always invite the guest to come back to your property
As I mentioned earlier, all hoteliers want guests to be satisfied and return to their hotel. So, at the end of your response, tell the guest that they are welcome to come back. Encourage them to give you another chance and assure them that they won't be disappointed.
Example: I will personally ensure that all your other complaints are addressed and that everything will be in order on your next visit. We look forward to welcoming you back then.
Additional resource are these three simple steps to reply to negative reviews
I hope this article helped you to find out on how to respond to negative Hotel Reviews.