How To Respond to Negative Hotel Reviews is one of the harder things in the hotel business. Your goal is to please all the guests so they can be always satisfied in  during their stay.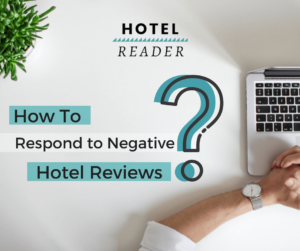 It is always a pleasure when we read nice words about our hotel, staff, service, but very often we come across those less pleasant words from guests, and from their perspective how they have experienced the stay in our hotel / accommodation.
But don't worry,
In the following, I will explain step by step how to make a good, logical and brief answer to the negative review.
You will also see review examples, and you can use mine templates for dealing with bad reviews.
All of us who have worked in hotel industry know how this can be stressful and uncomfortable at the same time.
In order not to get negative reviews, we first need to take care of that, that is, let's not let any of our guests be dissatisfied.
Visit this article to find out how you can improve your hotel reviews
But, if we already have a negative review, here is how is it easier to deal with it and how best to respond to it.
Advices:
My first advice is to make the review brief and understandable. No one wants to read a long post.
Apologize and Sympathize in your respond: "We are sorry to hear for your bad experience"
The best answer to a bad review is to be honest.
Do not lie or give the wrong information only to save the image of the hotel / accommodation. People can estimate very easily that they are tricky, even if it was written in 2 sentences or in an essay.
Don't give false promises or even promises that you can't afford to fulfill them.
Keep in mind that your answer to the interview does not read only to the one to whom you are addressing, these are public reviews and public responses, and your potential guests are reading!
Negative Hotel
 review examples:
Below you can find some example responses to a bad review. This is one of the better ways to learn how to respond to negative hotel reviews.
After reading the review, make sure what the guest is complaining about and make a note.
If the guest complains about the unkindness of the reception, check which employee receptionist(s) were on shift when the guests were accommodated in your hotel.
Make an interview with receptionists in order to find out what was the problem that the guest complained about their kindness and work.
If the guest complains of poor hygiene in the room, come to see which dormitory cleaned their room…
I give you some simple examples, the problem can be of any reason. It doesn't mean that the problem that guest are complaining are always the employees.
All I want to say is that before returning to the review, check out exactly what happened during their stay.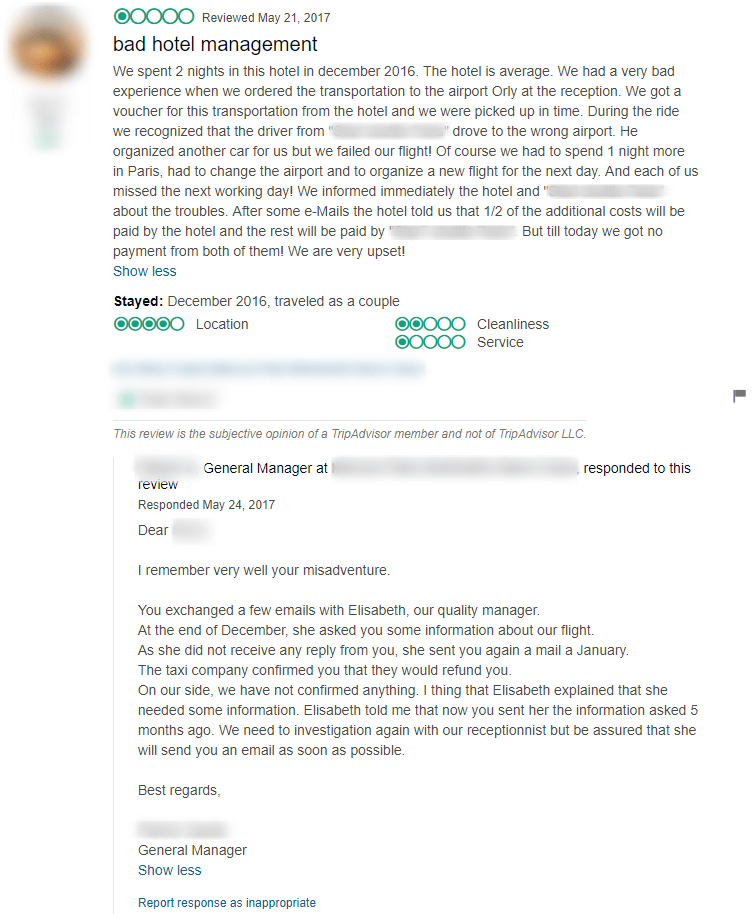 Be polite and kind when you respond
You sure have noticed that when you are starting to write the answer to the review in any OTAs (for example: booking.com) they give you an advise to be calm, polite and wise to choose the words we refer to the guest.
 Why is that? The goal of each hotelier is to make the guest return to their accommodation, and in the best case a regular/ loyal guest. So the first tip is to be kind and calm while writing a review.
Start with the name of the guest in the response letter
It gives the guest the importance that you have noticed his name and that you have carefully read his motive. With writing his/her name you are showing to the guests that you are care about them.
Keep in mind that the one who wrote the review that he will read and your answer to that, but that other potential guests will read it.
Example: Dear value (name of the guest)
Continue with saying thanks for the time to write a review.
Keep in mind that guests really take the time to write a review.
Example: Dear guest name, thank you for your time to write this review … or
Dear guest, we appreciate taking the time to write this review…
Excuse yourself for a situation or a specific case
Not every apology is acceptance or recognition of a mistake, but here you really need to apologize for the reason that maybe the guest is right.
But even when not, excuse me. On the one hand, it is consistent with culture, but also a way to alleviate the further text you want to write.
Apology even acts calmly. As much as you are disturbed by what you have read, when you apologize somehow soften things.
Example: Dear guest, thank you for your time to write this review, I apologize for this bad experience.
Dear guest, we appreciate taking the time to write this review, I am very sorry to hear that your stay did not meet your expectations.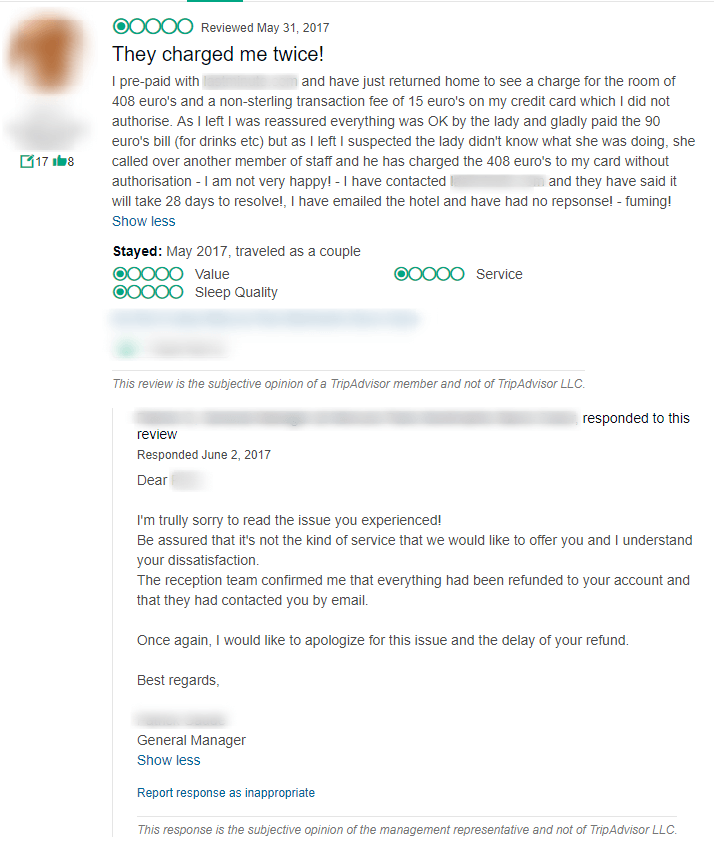 Explain the case or situation on your part.
Guests are always right, it's a clear rule. But in most of the situations they are not. Of course, you cannot say aloud or write in the answer to their review. Here you should always keep an eye on the reason the guest is unhappy and what he complained about.
If the guest wrote in the review that he/she is not satisfied with the complete service he/she has received, then there is nothing to explain that your staff is the best or that the food is best in the whole region, do not make things worse to prove that you are the best.
But if the review relates to a particular matter, for example, that there was too cold or too hot in the room and if this is very often write in the reviews you or your employee need to check why that is so common problem.
And when you are writing a respond be specific about the problem, explain yourself. If you have started to resolving the problem (you were aware about that problem before) tell them. Tell that you are (all the employees) aware about that specific problem and you are hardly trying to eliminate the problem.
If the guest complains to a receptionist then tell that those who received the guest or logged out of the hotel, appropriate disciplinary measures will be applied to them. The same answer can be for the rest of the staff. There are cases when you need to say that YOU will personally make sure to fix the problem that the guest is complaining about.
Example: Dear guest, thank you for your time to write this review, I apologize for this bad experience. I am very disappointed to hear that our room service and housekeeping staff did not meet your expectations. Your remarks are well noted and I personally will make every effort to remove all shortcomings as soon as possible. We will try the next time to be more than expected.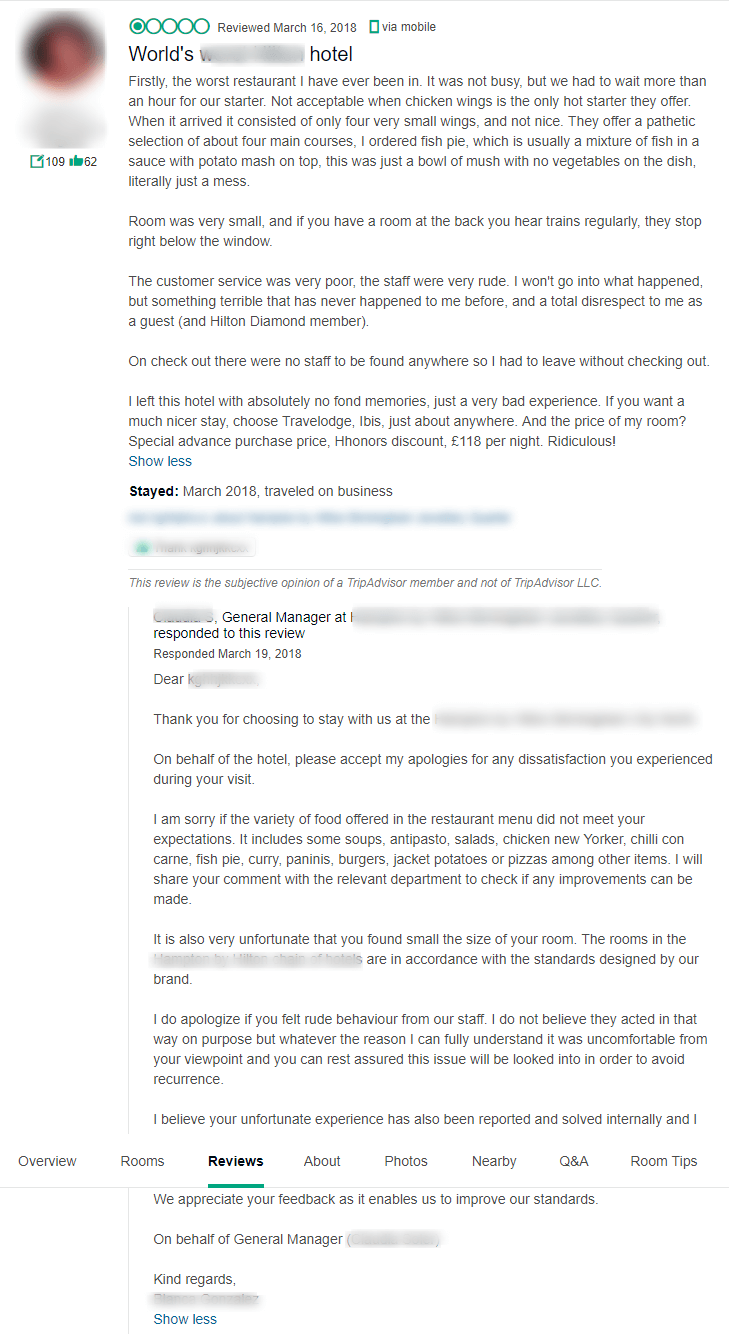 Ask your complaining guest to give you another chance
This is the part where you should not make false promises. If you really want to welcome back this guest, and if you have another chance, be honest.
It's not very ideall to give a presents to your guests just to came back to your hotel, but room upgrade for the next time it won't It will not hurt anyone. Or tell the guest in private message that next time it will have a complimentary stay at your property.
I say in private message because if you are giving free accommodation to all of your guests who will write a negative review and all of that are reading the other potential guests it's not a good idea. This is leading us to next advice.
Be open to contact with the guest.
Always before the end of the review you write to the guest that you are open to contact to solve the problem. Offer to send you a private email or phone number to contact you personally with him. This will show you the interest that you are really worried and that you really want to solve the problem.
In the end, always invite the guest to come back to your property
As I mentioned above, all hoteliers want the guests to be satisfied and return to the same hotel again. So at the end of the rehearsal, tell the guests that they are welcomed again. Do it in some way to delay your previous stay, tell them to give you a second chance and you will not disappoint them.
Example: I will personally supervise that all your other complaints are addressed that everything will be in order on your next visit. We look forward to welcoming you back then.
Additional resource are these three simple steps to reply to negative reviews
I hope this article helped you to find out on how to respond to negative Hotel Reviews